Video Game Industry in the UK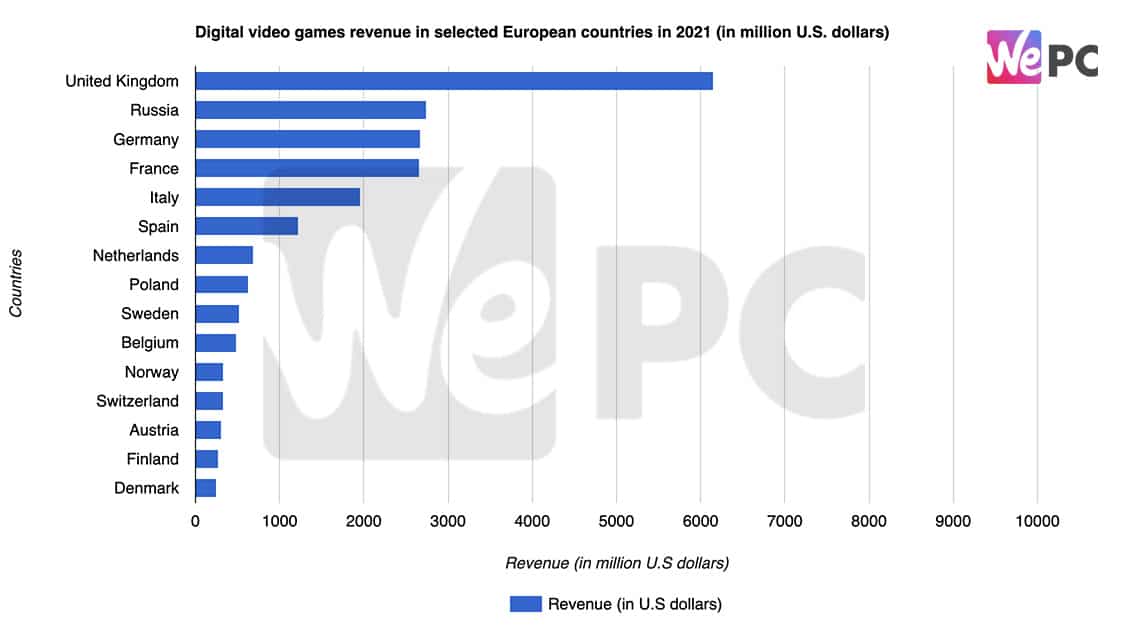 United Kingdom ranks the highest amongst all European countries in 2021 when it came to video games revenue digitally with a total of $6.1 billion U.S dollars.
When looking at the global video games market however, United Kingdom rank fourth behind China, United States and Japan when looking at forecasts between 2022 and 2025.
When looking at average revenue per user in the United Kingdom, the most trending pattern seems to come from Mobile Games which sees a revenue of $133.2 U.S dollars per user with it being forecasted to reach $165.5 U.S dollars by 2025.
According to Statista, by 2025 Video Games will reach 8.6 billion U.S dollars within the United Kingdom to where it currently sits at 6.1 billion in 2021.
Within 2020, a survey conducted by Audiencenet received back that 25.3% of gamers download individual video games through cloud services such as Google Play, PlayStation and Xbox Store, a further 17.9% said they pay a small fee to access one or many games through shared accounts.
With the pandemic, console gaming saw a popular rise in 2020 (£853m) compared to the previous year in 2019 (£488m). The assumption is due to restrictions and lockdowns it bolsters sales and also within the year introduced the next-generation console releases.
Console gaming and online games are consistently risen over the years in the United Kingdom to where it was last recorded amassed a total expenditure of almost £2.4 billion pounds, this is an increase from the previous year (2019) of a spend of £1.9 billion pounds.
In 2020 when last recorded, we see that the most popular sales distribution for Video Games comes through digitally with brick and mortars slowly declining every year.
Within the past twelve months, it's been said from a survey conducted from Statista that the most popular platform to buy video games within the United Kingdom is Amazon, this is followed by the PlayStation Store and gaming retailer, GAME.
At the time in 2020, the highest selling game for the United Kingdom was FIFA 21 with 2.1 million units sold, this was followed by Black Ops: Cold War with 1.4 million and Grand Theft Auto V with 1.1 million units.
As of 2021, the United Kingdom sees the most age penetration amongst 16-24 year olds when it comes to playing video games online, according to research conducted by Critical Research.
In the United Kingdom, gamers often spend at least an hour to five hours playing or engaging with video games per week, according to a survey by Statista.
The favourite genres amongst gamers in the United Kingdom were action (platform, fighting games), action-adventure and shooters (i.e FPS).
Last recorded in 2020, main motivational factors to why gamers in the United Kingdom wanted to access video games online came back with being able to having a wide range of games to play and them being 'free or cheap' according to a survey by GOV.UK.
In the United Kingdom, females have seen growth with their interactions amongst tablet gaming from 4% in 2012 to 22% in 2020-21 exceeding males in this category.
Mobile Gaming has been trending upwards in the United Kingdom thanks to the pandemic, we've seen it risen to double digit gains amongst all age groups with 35 to 44 year olds seeing the biggest percentage gain of 24%
When it comes to mobile gaming penetration in the United Kingdom, 16-24s slightly edge out the usage with 58% according to a survey conducted by Ofcom and Critical Research. Came next were 25-34s with 51%.
When it comes to console gaming, 16-24 year olds seem to be most penetrated within the video game market in the United Kingdom at 49%, follows is 25-34 year olds at 44%.
The most popular device to play video games on within the United Kingdom is Smartphones (44%) according to a survey conducted by Statista. This is followed by console gaming (36%) and desktop (27%)
In 2020, it was found that consumers in the United Kingdom spent approximately £1.5 billion pounds on mobile gaming, this is an increase from £1.2 billion pounds in the previous year. UK mobile gaming is continuing to rise with an increase of 21.3% year over year.
United Kingdom throughout the pandemic managed to become the leading country with the largest hour per week average amongst new mobile gaming members which further indicates the growth of the platform in the country.
On the other side, when it comes to Android in February 2022, the biggest gaming app on the Google Play Store with almost 470,000 downloads was W Challenge.
The most popular genre amongst mobile gaming in the United Kingdom is puzzle/trivia according to a survey conducted by Nielsen with 58%, this is followed by card games (31%) and action-adventure (30%).
As of February 2022, the leading application on the Apple App Store in the United Kingdom is 'Wordle!' with over 280 thousand downloads from iPad users. This was followed by Coloring Match (214,255) and Airport Security (213,664).
In 2021, the leading eSports player from the United Kingdom was Insight (Jamie Craven) who currently participates in the Call of Duty eSport series who has amassed a total of $294,000 U.S dollars
The majority of avid fans are amongst 18 to 34 year olds and the interest of eSports takes a decline as the year brackets increase according to Morning Consult.
However, from a research conducted by Morning Consult – 61% of respondents responded with not being a fan of eSports with only 3% being avid fans who follow the sport closely.
The streaming platform, Twitch sees most interaction within the United Kingdom on iOS with 1.2 million monthly active users on average compared to over 97,000 on Android.
Surprisingly, 62% of respondents by a survey conducted by Statista on video game streaming responded back that they do not engage with platforms such as Twitch and YouTube Gaming.
More Industry & Companies Statistics