Ever since the release of Windows 10 Microsoft vowed to discontinue releasing new versions of Windows every couple of years but instead will be developing and improving Windows 10 indefinitely. This was great news for Windows user's as updates and patches would be coming out more regularly and completely free of charge.
So far Windows have stuck to their word and we've seen plenty of updates released over the last couple of years, one of which was the new gaming section in the settings app. With this comes a bunch of neat features but today we will be focusing specifically on the Game Mode.
What does Windows Game Mode do?
That's a great question, and it's really quite simple. Game mode in a nutshell optimizes your computer's hardware to focus the majority of its power on whichever game you are playing. It changes the priority settings of every program and task currently running on your computer to much lower than that of the game you want to play. Creating a smoother overall gaming experience.
How do I enable Game Mode?
There are a couple of ways you can activate game mode and they're both very simple. It's worth mentioning that with the new updates game mode will automatically be selected for games that have been microsoft tested and support Game Mode.
To enable Game Mode simple do the following:
In 'windows search' type 'Game Mode' and press enter
This will open up the 'Gaming' app and should have selected 'Game mode'
In Game mode you will see a toggle which both enables and disables Game Mode
Simply select 'On' to enjoy Game Mode features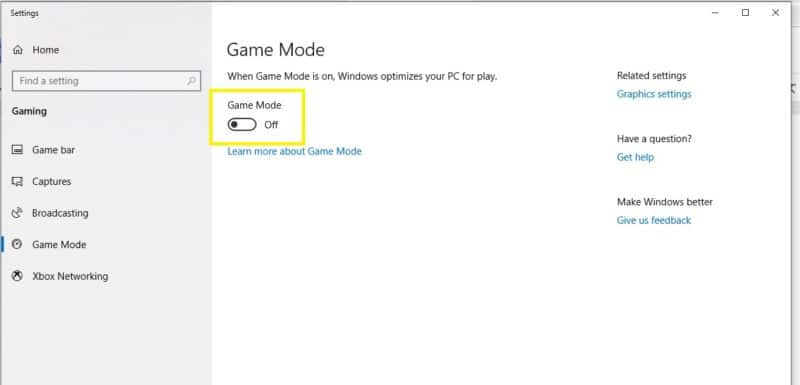 It really is as simple as that. It's worth mentioning that our computers didn't see a great deal of performance difference when using the app but we're running games on a system that has the capacity to run most games at the highest level seamlessly.
This could very well be a great tool for users with lesser systems or people that do a lot of multitasking.
You can also utilize Game mode whilst in game via it's toolbar. This can be activated by pressing win + G where you can toggle game mode, start broadcasting and a tonne of other features.
So there you have it, if you're experiencing lag, jittering or any other fps related problems when playing your favourite game we'd highly recommend trying Game mode to see if it can help boost your PC's performance!