Razer Mamba Wireless – Untethered. Unstoppable.
Razer introduced their revised version of the Mamba Wireless mouse back in 2018. The new version really does look and feel like an upgrade. Razer has done away with the old RGB lighting on the side but left the logo and scroll wheel prolonging the battery life. Previous versions of the Mamba would provide gamers with around 20 hours of playtime, whereas the 2018 model gives you 50 hours! The old version featured a laser sensor and a charging stand. The revised model features a 5g optical sensor and a simple USB charging cable. This mouse is very similar to the Deathadder in appearance and size with the silky rounded plastic top supported by slightly different rubber grips on the side.
Luckily I use a Razer Deathadder frequently so moving to this mouse was effortless. The Ergonomic shape of the mouse fits my right hand perfectly and is as good as the Deathadder for a palm or claw grip. The rubber grips on the side feel well thought out and provide great stability. This revision of the Mamba is quite light at 106 grams, which is basically the same as the wired Deathadder Elite (105g). This 2018 model is a whopping 20 grams lighter than the previous version, which is amazing considering how long the battery lasts and the PMW3389 sensor performs. If you're considering 'cutting the cord' and going wireless then the Razer Mamba is one to consider. We love what this streamlined version brings to the table and it is very reasonably priced at around £80/$80.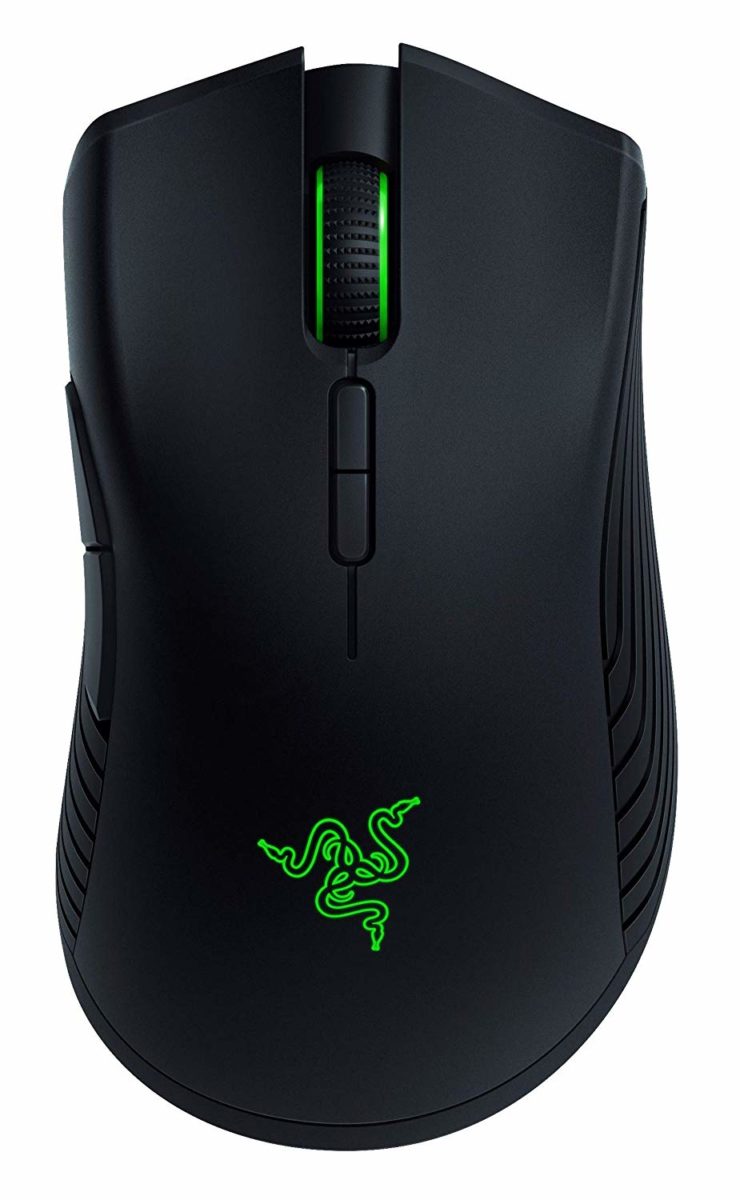 Medium (125 x 70 x 43 mm)
A high quality 5g optical sensor
Brilliant ergonomic design
Occasional tilt slam can cause unwanted cursor movement
No surprises the Razer box looks very elegant with its classic black and vibrant green color scheme. Inside the box, you receive the standard manual/warranty and a little letter from the manufacturer. You also get a braided charging cable that fits flawlessly in the mouse and allows you to keep playing when the mouse is charging. There is also a small micro-USB to full-size USB Type-A adapter which is for having the receiver for the mouse on your desktop instead of in the machine.
Mouse Stats
Sensor: PMW3389 Optical
Weight: 106g
Size: Medium (12.5 x 7 x 4.3 cm)
Game Types: All
Battery Life: 50 Hours
If there was one thing Razer nailed with this mouse it's the design. They managed to reduce the weight of this mouse to a reasonable 106 grams. That's pretty impressive for a wireless mouse and it's a whole 20 grams lighter than the previous version. The Mambas weight sits roughly in the middle compared with other mice. The Logitech pro somehow only weighs 80 grams whereas the SteelSeries Rival 650 weighs in at 121 grams, Think Kevin Hart vs Mike Tyson. With light mice such as the G Pro Wireless, I could barely notice I was using a mouse. With the Mamba, you are getting a mouse that isn't too heavy but you can still feel when playing. For me, I like to know I'm swiping a mouse across the surface and its weight paired with the ergonomics have produced brilliant results. The Mamba is a medium-sized mouse that sits nicely in a large hand. It's specifically designed for right-handed gamers and is perfect for a palm grip, however, it does support claw grips too.
The Razer Mamba features two thumb buttons located above the thumb grip. They feel quite robust like the rest of the mouse and can be quite useful. The mouse has two buttons on the top located behind the scroll wheel. The function of these buttons is to quickly change the DPI settings to presets that you can alter in Razer Synapse software. The scroll wheel is different to previous Mamba editions as they have scrapped the side clicking on the scroll wheel and just left it as a standard gaming tactile wheel. Like the previous Mamba, this one has a button on the bottom located near the power switch that allows you to change profiles. Again the profiles can be altered to your specification in Razers software. Lastly, a cool little feature we like with this mouse is the little storage compartment on the bottom. This little area is for storing the USB dongle used to connect the mouse to your PC, which can be great when you have to take this mouse on the move.
The ergonomics of the Mamba for me are as good as the Deathadder. It feels slightly shorter than the Deathadder but chunkier in the sides, sitting in my palm perfectly. Of course, as I mentioned before its for the right-handed gamer only and it features the same plastic as the other Razer mice. It seems to deal with perspiration well and evaporates any residue quickly even after the extra sweaty clutch situations. The new rubber grips on the side that now feature on a couple of the Razer mice are a great addition. Rubber grips are crucial for the heavier mice and they make this mouse 'grippy' and really do limit any accidental slips to almost none compared with previous Razer mice.
It's worth mentioning the Mamba comes with a propriety charging cable (micro USB) and is the only cable that will charge the product. It comes with a mini desktop USB hub that gives you the option to put the mouse receiver closer to the mouse.
The Wireless Mamba boasts a true 16,000 DPI sensor, It's the 5g optical sensor (PMW3389) used on the majority of Razer mice. I tested this in CSGO and was surprised at how well it performed. It didn't take long to get used to at all, the mouse always felt accurate despite it being a new mouse with slightly different settings. I found the small mouse corrections in the game a lot easier and reaction flicks seemed to hit quite frequently despite only using the mouse for a few hours. Using Razer's Synapse software you can change the RGB and map buttons to different functions but you can also change the DPI presets. There are 5 preset DPI settings, each 'DPI stage' can be customised along with the polling rate. These customised DPI settings can then be changed quickly using the function buttons on top of the mouse.
This mouse uses the Razer mechanical switches they co-developed with Omron and they claim you get up to 50 million clicks, which we were unable to test, unfortunately. The switches are built to last and the collaboration with Razer has produced switches more than 2 times as durable compared to previous versions. The mouse polling rate is set to a default of 1000 Hz but can be changed in the software to preset values of 125 Hz and 500 Hz. The Lift Off Distance (LOD) for the Mamba is 1mm so it will translate every mouse movement accurately.
I used the Mamba continuously over the last week for around 8 hours a day, I enjoyed it as my main mouse in the office. It glided over any surface with minimal friction and even worked without a mouse pad, just on my desk surface. I put it through its paces on a few FPS titles such as CSGO and Insurgency, it was flawless. I found it easy to flick with accuracy and when it came to tracking heads in-game the mouse gave me great confidence. The high-quality sensor is largely responsible for the great performance and it's given me a headache in terms of what mouse I actually want to use on a daily basis. Wires are a thing of the past, with this mouse it's just as good as wired. I continued to game with it till it hit about 5%, after which I noticed slight latency but as long as you keep on top of charging you will never really experience any issues.
Razer claims it will last 50 hours but if you were to game with this every day I'm not so certain. You can, however, change the RGB settings and sleep timer in the mouse software, which will buy you extra gaming hours and possibly help it last till the end of the week.
Razer Synapse Software
The Wireless Mamba uses the intuitive Razer Synapse software, which in recent years has become a lot easier to use and a lot more reliable. If you already have Razer Synapse installed for another device it will instantly recognize and install any new Razer devices for you. Through the software, you can check for updates and customize the mouse to your own specifications. You can also have the software automatically update device drivers for you.
Considering I'm an avid user of the Deathadder it was of no surprise to me that I actually enjoyed using the Razer Mamba wireless. This is largely due to their similarities in terms of weight and size so it was a natural fit really. At around £80/$80 the mouse is priced competitively and could be seen as a viable alternative to the other high-end wireless mice on the market. It simply comes down to preference and what you expect to get from the wireless gaming experience. If you can manage the responsibility of ensuring the mouse is sufficiently charged, then consider the Mamba wireless. Remember this revised version is streamlined and offers more playing time than most other wireless mice. Factor in the brilliant ergonomics and build quality and you've got a winner. I have never had any issues with Razer personally and this mouse wasn't any different. I'd recommend this to any FPS player that prefers medium + sized mice looking to get rid of the wire and go wireless!
Is Razer Mamba an RGB?

Yes, the Razer Mamba mouse features Razer Chroma RGB. If you enjoy RGB lighting, then this is fantastic news. This RGB is fantastic, and it features many lighting effects.

Some of these lighting effects include spectrum cycling, breathing, static, reactive, wave, ripple, and fire. These all provide different RGB lighting to best suit your personal preferences. All the choices are interesting and bright. As there are so many choices, it will take a user a long time to get bored!

In addition to these set lighting options, there is also the option to create your own lighting effects too. With the Chroma Connect, you are able to connect the lighting of the Razer Mamba to games, and integrated applications too.
Can the Razer Mamba Wireless charge wirelessly?

Yes, the Razer Mamba can be charged wirelessly. When it comes to this mouse in particular, it is very versatile. In fact, you can charge it in two different ways.

The first way in which you can charge the Razer Mamba is by charging it wirelessly. To do this, you will simply need to place the mouse on the wireless charging dock. When the charging dock has been switched on, it will charge wirelessly.

Charging the mouse wirelessly is useful as it does take away the need for wires cluttering up the desk. However, if you do not want to charge the mouse wirelessly, you can use the wire to charge it too.

While this does mean that the wire can potentially interfere with your set-up, it also means that you can still use the mouse when it is recharging. If you charge it wirelessly, you will be unable to do this.
How does the Razer Mamba connect wirelessly?

What is great about the Razer Mamba is that it connects to your PC wirelessly. If you are not a fan of wires cluttering up your set-up, and you want the freedom to move your mouse without limitations, it is a great option to choose.

The Razer Mamba connects wirelessly to your PC through the USB wireless adapter and receiver. To connect it, you will simply need to plug this into a USB port on your tower. It is easy to set up, and is particularly useful.

The wireless receiver is located at the bottom of the Razer Mamba mouse, and is easy to install and locate. Once it has been attached, it will provide a clear and accurate connection. This connection will last for up to 50 hours before it needs to be charged.
Is Razer Mamba Elite good for FPS?

When it comes to the overall FPS, this can be a dealbreaker for a gaming PC. You will want to ensure the software, and components used are good for FPS.

The Razer Mamba Elite is particularly great for FPS. It is one of the best gaming mice that is currently available on the market. The connection speeds are fantastic, and the mouse moves quickly, with ease.

You do not need to worry about lagging, and it moves with even the smallest of motions. This is something you will want to look out for when choosing a gaming mouse.

In addition to this, it has low latency, and it is a fairly lightweight mouse too. This is important as it allows you to make quick and fluid movements. The Razer Mamba Elite is a mouse that is going to enhance your overall gaming experience, rather than holding you back.
Which is better: Razer Mamba or DeathAdder?

Ultimately, it is down to personal preference when discussing whether the Razer Mamba is better than DeathAdder. With the majority of gaming mice there is a clear winner. However, these are both great choices for different reasons.

When looking at the overall specifications, they both are a great size. They are lightweight, comfortable to use, and are particularly responsive. As they are both created by Razer, you know that quality and value for money is not going to be an issue.

While the DeathAdder is slightly lighter to hold, the difference is very minimal, and something you can only notice when testing both mice simultaneously. They both have a similar design, and a low click latency, which is fantastic for gaming.

Overall, the Razer Mamba is slightly more expensive in comparison to the DeathAdder, but the price difference is minimal. They are both fantastic for FPS, however, many people do slightly prefer the DeathAdder overall.
Can Razer Mamba drag click?

For gaming, drag clicking is something that is not necessary, but can be particularly useful. If you are unsure of what drag clicking is, it is essentially where you drag your finger across the buttons of your mouse sharply. This will then allow the mouse to click at a quicker rate overall.

Drag clicking is great for use in games where you will need to click many times, such as if you are mining on Minecraft. Roblox, and Clicker Heroes also benefit from a mouse that is capable of drag clicking.

Unfortunately the Razer Mamba does not allow you to drag click, which may be slightly disappointing to hear. However, you should not be put off by this. Though the Razer Mamba is not capable of this, it is still a very responsive mouse. Given this, you will still be able to click quickly and efficiently.
Is the Mamba Wireless good for FPS?

As we have already covered, it is important to ensure that your PC and its components are capable of providing good FPS. Without good FPS, your gameplay will be limited, and will not be as successful as it could be.

When it comes to Razer mice, they are typically fantastic for FPS. When looking at the Mamba Wireless, it is no exception to this. It is a fantastic mouse for FPS, and it is certainly worth considering.

In addition to this, it is a lightweight mouse, you can move it with ease, and it will not lag. The CPI range can be widely adjusted, and the grip of the mouse is good. As a result of this, your gameplay will be very quick.

As this is a wireless mouse, the great FPS in addition to not having to worry about wires is a great combination, and provides seamless gameplay.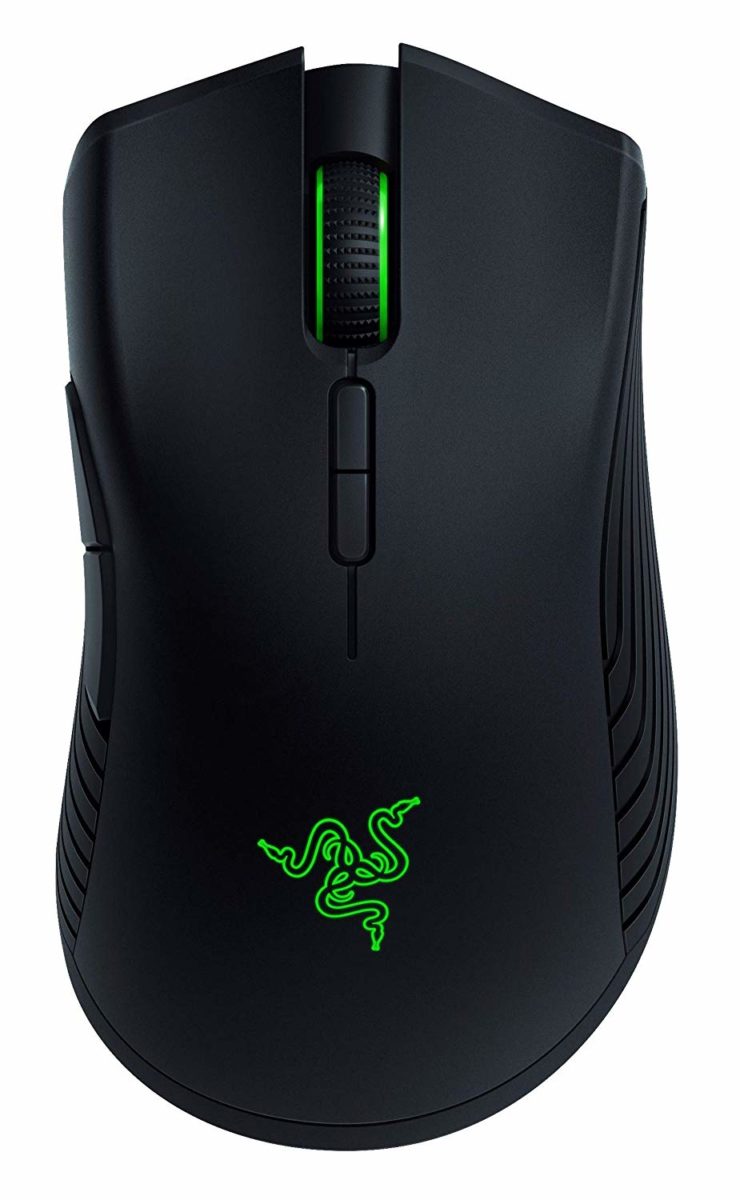 Medium (125 x 70 x 43 mm)
The Razer Mamba wireless is an excellent gaming mouse, sporting the PMW3389 sensor and coming in at 103 grams.